The Sottovento thermal centre is characterised by inebriating fragrances and luxurious wellness treatments. Bormio also offers access to the thermal centres of Bormio Terme and Bagni di Bormio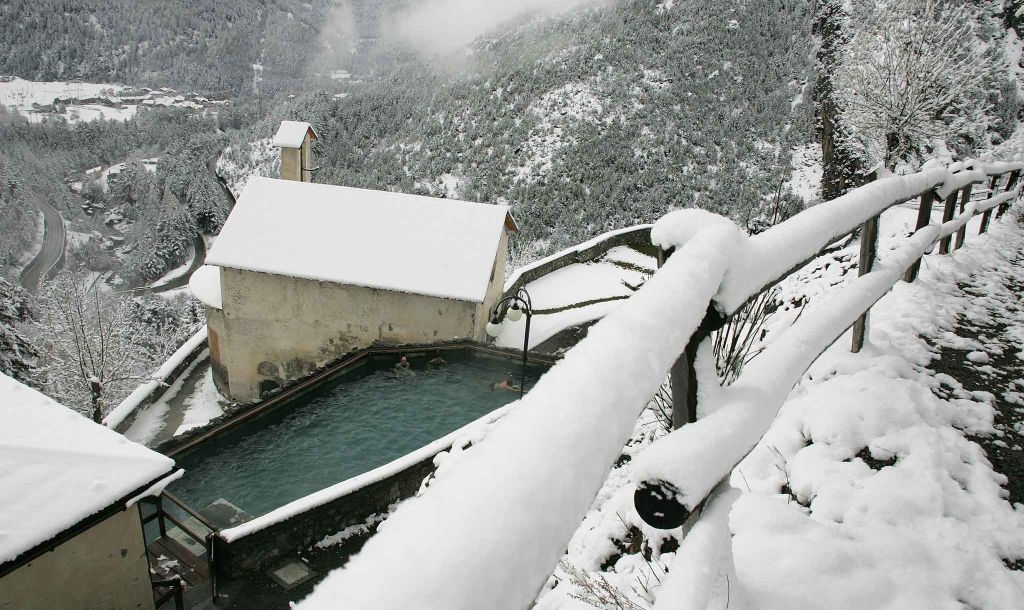 Sensorial experiences and benefits, all that the thermal baths offer in Bormio.
Warm waters, inner relaxation and the magic of snow. These are the three elements or adjectives that anyone thinks of when imagining themselves in the relaxing thermal baths amidst the astonishing nature of Valtellina. The thermal baths have always been a popular destination for the magic and psycho-physical wellbeing they offer to those who decide to be cuddled and lulled by the many wellness programmes.
Sottovento Luxury Hospitality offers its guests a regenerating experience at the hotel's thermal centre. Oriental fragrances, beauty treatments and high-quality services guarantee peace of mind. In the luxurious spa, guests can immerse themselves in a variety of wellness programmes, starting with the classic Finnish sauna and moving on to the aroma-therapy Turkish bath or the beautiful emotional showers (chromotherapy, Scottish and lymphatic drainage).
There are several possibilities for a thermal route, starting with Bormio Terme located in the city centre, easy to reach and very suitable for families; and ending with the suggestive Bagni di Bormio, divided into Bagni Vecchi and Bagni Nuovi, both a few kilometres from the city centre, in the Stelvio National Park, ready to enchant even the most disillusioned traveller.


Bormio Terme


Bormio Terme offers a thermal centre suitable for everyone: families with children, couples wanting a relaxing time together, but also for sports enthusiasts. Turkish baths, saunas, tubs with water jets and whirlpools will allow you to achieve the much-desired tranquillity; in addition, you can choose from various wellness paths such as the SempreVerde, the Loggia Termale and the Thermarium. Various beauty treatments are available to devote oneself completely to the care of one's own body, and it is also possible to take swimming or hydrobike courses, and then end the day in the relaxation areas provided, such as the terrace bar that offers a wonderful view of Bormio and the thermal baths.

Bormio Baths


The Bormio Bagni Vecchi (Old Baths) are so called because of their origin dating back more than two thousand years. They are divided into six sectors, Roman Baths, Archduchess Baths, Grotta Sudatoria, Medieval Baths, Imperial Baths and a panoramic outdoor pool for a breathtaking view to be seen at least once in a lifetime. They are known for the benefits they offer on body and mind, to chase away the stress of hectic city life. The services are varied and customisable, boasting more than 30 spa services and areas dedicated to beauty treatments such as massages. The setting of the old baths is particularly striking due to the characteristic antiquity of the facilities and the perfect union with nature: the sweat grotto is an example of the union between wellness and nature, as it is a natural grotto carved out of the rock.
The Bagni Nuovi (New Baths) are equally suggestive and designed for those who want to relax between nature and modernity, which also in this case are perfectly blended to maintain a relaxing balance. They offer a large outdoor area where, together with the baths, you can enjoy a wonderful garden-solarium. The Bagni Nuovi also offer several wellness paths to choose from among more than thirty services, including waterfalls, eight open-air pools, a wooden hut housing a sauna, relaxation room, Turkish baths and, of course, an unforgettable panorama.
Every wish can be fulfilled, every body and every mind can be regenerated. Real wellbeing passes through our ability to seek peace, and this is certainly possible in the unspoilt and wonderful nature of the Valtellina Alps.
Choose Sottovento
Hotel in the heart of the Stelvio National Park
Alpine and sophisticated design
21 warm and cosy suites
Wellness area with SPA and large garden/solarium
Cafeteria with homemade pastries
Reserved parking space in the garage
"Porsche Destination" electric car charging stations
Ski room and bike room